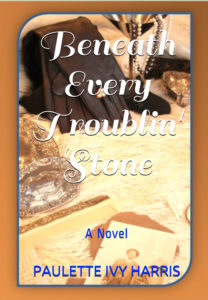 Bernice Silverson Tulley comes of age in 1904 segregated United States. Her story unravels why an affable, intelligent, well-spoken Georgia girl, well-read yet wide-eyed in youth, a daughter of slave-born parents rooted in the Word came to depend upon herself. A prejudiced society works against Bernice and studs her life-journey with troublestones. Troublestones are the world's delusions that tempt, discourage and cause hurt and remorse. She compromises her faith to have what she wants and feels she deserves.
Bernice seeks real love and copes with losses in family and relationships, while Prohibition Law and the economic depression threaten her sole source of income – her Syracuse restaurant, bar and boardinghouse business called the Star. God's answers to these unfortunate events do not suit Bernice and her faith is lost. She takes fate into her own hands. She converts her failing boardinghouse into a high-class brothel and speakeasy. Bernice becomes Madam Tulley and she flaunts the luxuries her clandestine income brings.
However, Madam Tulley sinks deeper into mud under the weight of her choices which lead to a place she does not expect – a New York state prison, incarcerated as a manager of prostitutes and bootleg alcohol. The consequences of Madam's decisions and schemes force her to take a long look beneath the troublestones she bears. Reluctant, she reflects back on her disappointments and failures and realizes how full of herself she has become.
Each troublestone teaches a serious lesson; and if Madam is willing to learn, she may regain enough faith to toss aside her troublestones and free her spirit.
Now Available in Paperback and Digital Format
Due to mature themes and situations, this book is rated for readers age 18 and over.
30% Off the $9.99 Published Price!
Purchase Now for $ 6.99
To purchase and download e-book to your device,