E-Books for Children!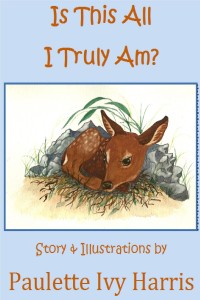 The story is about Deer One, an orphan fawn who is fostered by a dog family. Because Deer One never knew her deer family, she is confused about who and what she is supposed to be. Deer One seeks to learn her place in the world and who she truly is. There are occasions when everyone asks themselves, "Is this all I truly am?" The quest to learn who you truly are and find the meaning of existence is the most basic of human quests. This story helps adults present poignant answers to children in terms they can understand. Children and adults will find the story's theme and Bible references inspirational. This book is appropriate for ages 8 to adult.
Is This All I Truly Am?
Story & Illustrations by Paulette Ivy Harris
E-Book Digital Format Only
$ 5.99
(New window opens to e-book Publisher Smashwords.com secure website
to view excerpts, purchase & to download Smashwords Edition E-Book)
~~~~~~~~~~~~~~~~~

This sweet story is inspired by a real puppy that brings joy back into the lives of a family who lost a pet. Ruma is a free spirit and is learning lessons about her environment, home and about her place in her new human family. She is amusing despite her determined personality. Her family loves Ruma and you will too. This e-book is appropriate for pre-school and young readers.
Ruma, Warrior Princess
by Paulette Ivy Harris
E-Book Digital Format Only
$5.99
(New window opens to e-book Publisher Smashwords.com secure website
to view excerpts, purchase & to download Smashwords Edition E-Book)
~~~~~~~~~~~~~~~
New Cover!

 (You will be taken off-site to YouTube. Use Back Button to return to our page. Thank you!)
Description
            Bernice Silverson Tulley comes of age in 1904 segregated United States. Her story unravels why an affable, intelligent, well-spoken Georgia girl, well-read yet wide-eyed in youth, a daughter of slave-born parents rooted in the Word came to depend upon herself. A prejudiced society works against Bernice and studs her life-journey with troublestones. Troublestones are the world's delusions that tempt, discourage and cause hurt and remorse. She compromises her faith to have what she wants and feels she deserves.
            Bernice seeks real love and copes with losses in family and relationships, while Prohibition Law and the economic depression threaten her sole source of income – her Syracuse restaurant, bar and boardinghouse business called the Star. God's answers to these unfortunate events do not suit Bernice and her faith is lost. She takes fate into her own hands. She converts her failing boardinghouse into a high-class brothel and speakeasy.  Bernice becomes Madam Tulley and she flaunts the luxuries her clandestine income brings.
            However, Madam Tulley sinks deeper into mud under the weight of her choices which lead to a place she does not expect – a New York state prison, incarcerated as a manager of prostitutes and bootleg alcohol. The consequences of Madam's decisions and schemes force her to take a long look beneath the troublestones she bears. Reluctant, she reflects back on her disappointments and failures and realizes how full of herself she has become. Each troublestone teaches a serious lesson; and if Madam is willing to learn, she may regain enough faith to toss aside her troublestones and free her spirit.
            How Madam's journey affects you may depend upon the weight of your own decisions. Which troublestones do you share with Madam Tulley?
*Available as a digital e-book only. Due to mature theme and  situations, this e-book is rated for Adult Readers age 18 and older.
 Go to the
Excerpt
 to preview
Beneath Every Troublin' Stone
By Paulette Ivy Harris
E-Book Digital Format Only*
30% Off the $9.99 Published  Price!
Purchase Now for $ 6.99
 To purchase and download book to your computer, go to the
Bookstore
~~~~~~~~~~~~~~~~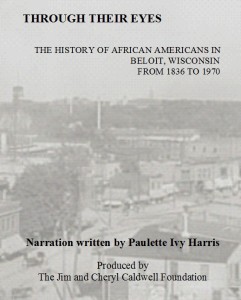 Through Their Eyes:
The History of African Americans in Beloit, Wisconsin From 1836 to 1970
Author Paulette Ivy Harris wrote the narration for
Through Their Eyes
, a DVD produced by The Jim and Cheryl Caldwell Foundation,  members of the NFL family. Jim Caldwell is the current Head Coach for the Detroit Lions and the former Head Coach for the Baltimore Ravens and the Indianapolis Colts .
Through Their Eyes
pays homage to the earliest families that arrived in Beloit and founded the African American presence in the city. It recalls the first seeds sowed from which Beloit's contemporary black churches flourish today.
Through Their Eyes
contrasts tenant farming with factory work and city life with the rural lives of families migrating from the South to Beloit seeking better opportunities.
Through Their Eyes
reverently remembers the community's pioneering scholars, supporters of youths, and social activists who illuminated the path which moved society toward the acknowledgment of human rights and civil fairness. The members of their own community they chose to uplift and celebrate, and recollections of people and events that continue to touch the heart and soul of African American Beloiters everywhere makes this documentary unique in its scope. Not only is it an inspiring tribute to Beloit's black leadership of the past,
Through Their Eyes
is a poignant legacy for the community of today to build upon.
Click this link to beloithistoricalsociety.com to obtain this fascinating DVD ($20).
~~~~~~~~~~~~~~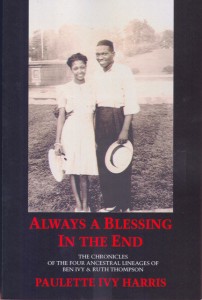 Always A Blessing in the End: The Chronicles of the Four Ancestral Lineages of Ben Ivy & Ruth Thompson
By Paulette Ivy Harris
This is author Paulette Ivy Harris' first book. It is nonfiction and is the result of  fourteen years of research of her family's roots in Georgia, Mississippi and Tennessee. Always A Blessing in the End is a two-fold exploration of the African American experience in the United States within the genre of a family history. Her ancestors resurrect from the dust of their internments and take on flesh to live again between the pages. By incorporating genealogical details about her ancestors into her narration of African American history, she reconstructs the lives her ancestors endured.
More information and excerpts from this book can be found under the "Previous Book" tab.
 Available in Print ($24.95) and E-book ($6.00) Editions
From selected online book retailers
~~~~~~~~~~~~~~
HARRIS TRABUE FAMILY GENEALOGY & HISTORY:
THE STORY OF US
Researched and compiled by Paulette Ivy Harris
THIS IS A FREE E-BOOK!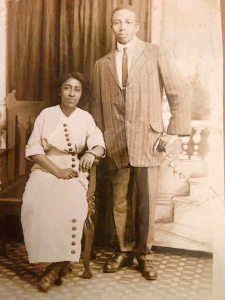 Click Book Cover to read & download
Click Photo to view the Slide Presentation
The
HARRIS/TRABUE FAMILY GENEALOGY & HISTORY: THE STORY OF US
 made its debut at the
First Harris/Trabue Family Reunion
on June 26, 2015 in Atlanta, Georgia. It is a 200-hundred-year accounting of five generations of an African-American family whose ancestors left behind, for their descendants to discover, a legacy of participation in the Civil War fight for U. S. citizenship due Black Americans and of defending freedom abroad as soldiers in the U. S. military; a legacy of seizing the American dream of land and home ownership; of aspiring to and accomplishing professional careers; of keeping faith with God and holding sacred the family unit as the sources of emotional strength and encouragement. The book's 243 pages includes a historical narrative summary of documented facts and family oral history, maps, ancestor profiles, and reproductions of actual archival records for the reader to trace this family's ancestry back to 1797. It includes a photo exhibit of ancestors and their burial sites--the oldest photo taken on tintype in the 1860s. Also, view the informative 22-minute slide presentation of
THE
TRABUE LINEAGE
, narrated by the author. 
Join the journey back in time to discover the Harris and Trabue ancestors who, by their example, illuminated avenues of opportunity for their present generations to succeed.  (Above photo of LeRoy & Beatrice Trabue, courtesy of Tessa Trabue from her personal archives.)
Copyright Statement: The entire website is copyrighted by Paulette Ivy Harris including all content, design, information, audio, video, photographs, graphic elements, and digital downloads purchased unless noted otherwise. Information from this website may not be reproduced by any means, graphic, electronic, or mechanical, including  photocopying, recording, taping, rebroadcast, published, rewritten, transmitted, distributed, or by any information storage retrieval system without the express written permission of Paulette Ivy Harris, except in the case of brief quotations embodied in critical articles and reviews.